Viva Motorsports with Frank...
Viva Motorsports with Frank Cicci China Grove, NC (May 30, 2013) CHINA GROVE, NC - Viva...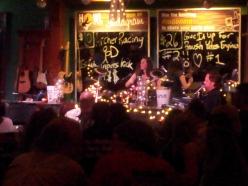 The ROUSHYATES PRI Party
All work and no play... is unacceptable. As the second day of the Performance Racing...

Opening Day at the PRI
There was no snow on the ground. There were no boughs of holly shoved over doorways or...

A Green Education
The hour was early, but there were no sleepy-eyed stares in the exhibition halls, no...

PRI Show Christmas shopping
Performance Racing Industry show Day one. We attended an Erace Seminar today 9-5. It...
Reshaping the Racing Community
November is a collection of numbers: 38,000 guests 70 represented countries 1000...

OneBigBroadcast Teams Up With...
OneBigBroadcast.com is pleased to announce it is been appointed the official social /...

Winning The eRace: A Social...
Cylinders and starters, camshafts and superchargers: the Performance Racing Industry...

The Paper Problem: Changing the...
The days creep toward winter but the Florida sun shines on, greeting the thousands of...